Are you tired of receiving unsolicited email messages by the hundreds per day? Lilmonster.com now offers several email filters that will allow you to separate the "junk" or "spam" emails from the legitimate email messages that you receive. Follow carefully the instructions given below:
Please Note: These settings work for Lilmonster.com and lmtcg.com email systems, No Guarantees with any other email system.
In order to activate your email filters, you must first log into your email account using the Lilmonster.com webmail page. Once you have logged in, click on the Account Options located on the upper right side of the page. From the drop down menu select Filters. Press the Add button to start adding the email filter rules. Follow the instructions given below, the sample image posted below includes fields that are numbered according the order of instructions.
From the "Select Field" click on "Headers". Put a dot next to the word "contains".
Inside the box provided for "Phrase" you will type the following email filter rule; X-IMAIL-SPAM-DNSBL (make sure that they are all capitalized).
Then click on "Add Condition" button. The email filter rule will actually move from the "Phrase" box down into the "Rules" box.
From the "Filter Action" box, you can select "Move this message to this mailbox" which will put every message being rejected into a folder called "Spam". The option "Forward this message to" will allow you to specify an email address where you would like to have the bounced emails forwarded to. The "Delete Message" option will simply delete any bounced emails without leaving a copy of the message.
In the "Destination" box, you can either specify the email address of where you want your bounced messages to be forwarded to or you can simply type the work "Spam" and it will create a folder within your email box where it will store any bounced message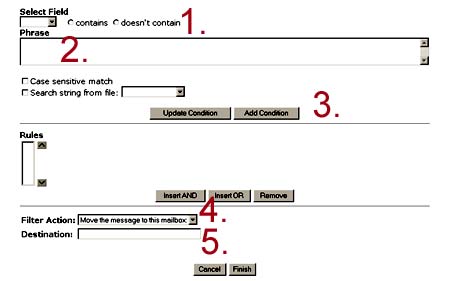 For each of the following filter rules you will follow the same procedures instructed above. These should be installed 1 at a time starting with level 1, this removes the most spam. then if that doesn't stop enough for you, try adding level 2, then level 3, then level 4.
Filter Rules:
Level 1 = "X-IMAIL-SPAM-DNSBL" This does not allow any email from any domain on the DNS Blacklist, and stops the most emails
Level 2 = "X-IMAIL-SPAM-VALFROM" This validates the email by verifying the domain it came from.
Level 3 = "X-IMAIL-SPAM-STATISTICS" This scans the email for keywords that are specific to spam mail.
Level 4 = "X-IMAIL-SPAM-VALHELO" This verifies the email by saying hello back to the mail server.
Dad's Tip: make a different mailbox for each filter, That way you can see what is being filtered by which filter.